WARNING! Here is a 14 minute video of a threat for all those who live in the USA! Watch it to the end. Your LIVES are in DANGER
How to get Mexican Citizenship
Mexican Citizenship Now
PARA ESPAÑOL HAZ CLIC AQUI POR FAVOR *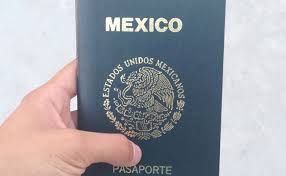 Your New Mexican Passport
I DO NOT REQUIRE PROOF OF MEXICAN RESIDENCY.
Most others in the USA do require it.
After you receive your new Mexican Birth Certificate from me, you may apply for your MEXICAN PASSPORT in any Mexican Consulate in the USA or in Mexico.
There will be an INCREASE in processing cost October 1st. 2014 to $295.00 for 1 person, $550.00 for 2 people, and $765.00 for 3 people, all done at the same time. Amended U. S. birth certificates will be $16.00 additional because of the length of the translation.
Mexican Goverrment regulations require that I present ORIGINAL (not photocopies) of the birth certificates for both of your parents, with a date of issue LESS than one year old. If one parent was born in the USA that birth certificate will need to have an Apostle from the Secretary of State where that parent was born issued less than one year ago.
The names of your parents on their birth certificates must be IDENTICAL as they appear on your birth certificate. If not, amend your birth certificate before applying.
I highly recommend that you scan and email me all three birth certificates BEFORE you send me any originals or pay any money. I need to check names, dates, and places of birth FIRST to be sure your documents will qualify you.
- Dr. Charles Spurgeon
Probably 20% of the people who obtain Mexican Citizenship do it through me. The other 80% tell me that they WISH they had. . . . .
Born in the USA? Have one parent who was born in Mexico? If "yes", you qualify!

The registration here in Mexico for a child of a Mexican born parent is known as "Reclaiming your Mexican Citizenship" for a child born out of Mexico. I will also send you your Mexican Birth Certificate in full color. The cost is $250.00.

Lawyers are very expensive. Consulates are slow, will require additional documents from Mexico with Apostles every time you go back, again and again, and will require that your parents be present in the Consulate to sign, plus you will have to wait in long lines several times. Leave these options for the crowd! YOU now have the option of a fast and economical route to achieve the same results. BE A WINNER! Here is the answer to your need –